This website is informational and cannot diagnose or treat illness or disease. Medical marijuana should be used under the direction of a licensed healthcare provider. This site contains advertisements. If you click a link and make a purchase, MarijuanaMommy.com may receive a commission.
Have a Merry Marijuana Christmas!
Show your love of the plant this holiday by donning a marijuana-themed ugly Christmas sweater or a Stoner-Santa hat. They also make perfect cannabis Christmas gifts.
If you're looking for the perfect pot present, a marijuana ornament or cannabis mug might be what you need.
Read on to find loads of Marijuana-Themed Christmas shirts, weed ornaments, Cannabis Christmas Cards, cannabis x-mas decorations, and more.
20+ Cannabis-Related Christmas Gifts
Let's Get Baked Christmas Sweater
This seven-foot tall cannabis Christmas tree is made from realistic looking marijuana leaves.
Cannabis Christmas Tree T-Shirt
Buy Now
Cannabis Christmas Pencil Skirt
Buy Now
Cannabis Themed Ugly Christmas Sweater Printed Sweatshirt
Buy Now
Happy Holidaze Cannabis Christmas T-Shirt
Keep Calm and Smoke Weed Christmas Ornament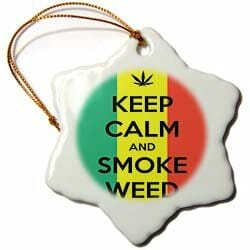 Buy Now
Marijuana Christmas Coffee Mug
Mistlestoned/Mistletoe T-Shirt
Buy Now
Pot-Leaf Patterned Christmas Stocking
Buy Now
Cannabis Leaf & Reindeer Shirt
Personalized Marijuana Leaf Ornament
Medical Marijuana Christmas Cards
Happy HoliBlaze Marijuana Christmas Shirt
Sparkly Pot Leaf Christmas Ornament
Let's Get Baked Raglan Jersey Tshirt