This website is informational and cannot diagnose or treat illness or disease. Medical marijuana should be used under the direction of a licensed healthcare provider. This site contains advertisements. If you click a link and make a purchase, MarijuanaMommy.com may receive a commission.
Have a Merry Marijuana Christmas!
Show your love of the plant this holiday by donning a marijuana-themed ugly Christmas sweater or a Stoner-Santa hat. They also make perfect cannabis Christmas gifts.
If you're looking for the perfect pot present, a marijuana ornament or cannabis mug might be what you need.
Read on to find loads of Marijuana-Themed Christmas shirts, weed ornaments, Cannabis Christmas Cards, cannabis x-mas decorations, and more.
20+ Cannabis-Related Christmas Gifts
Let's Get Baked Christmas Sweater
This seven-foot tall cannabis Christmas tree is made from realistic looking marijuana leaves.
Cannabis Christmas Tree T-Shirt
Buy Now
Cannabis Christmas Pencil Skirt
Buy Now
Cannabis Themed Ugly Christmas Sweater Printed Sweatshirt
Buy Now
Happy Holidaze Cannabis Christmas T-Shirt
Keep Calm and Smoke Weed Christmas Ornament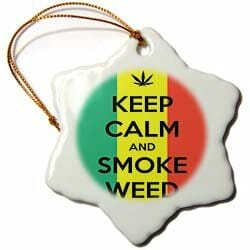 Buy Now
Marijuana Christmas Coffee Mug
Mistlestoned/Mistletoe T-Shirt
Buy Now
Pot-Leaf Patterned Christmas Stocking
Buy Now
Cannabis Leaf & Reindeer Shirt
Personalized Marijuana Leaf Ornament
Medical Marijuana Christmas Cards
Happy HoliBlaze Marijuana Christmas Shirt
Sparkly Pot Leaf Christmas Ornament
Let's Get Baked Raglan Jersey Tshirt
Here's Everything They Didn't Tell You About Marijuana!
Real Facts. Never Propaganda. Subscribe for Updates.
Thank you for subscribing.
This must be reefer Madness! Something went wrong.
This site contains affiliate links. If you click a link and make a purchase, I may receive a commission.