Easy to Make Weed Edibles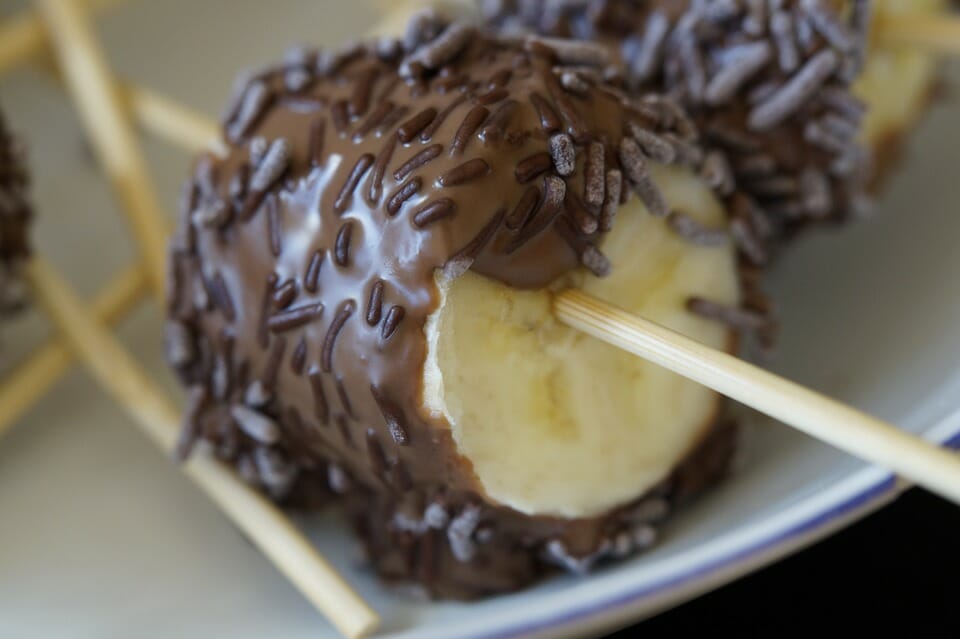 I'm always seeking marijuana recipes for easy to make weed edibles.  Because I only have access to flower, I DIY my edibles at home. When I find delicious and easy to make weed edibles, those marijuana recipes become keepers for sure.
This is my new favorite, out of all my marijuana recipes – canna-banans.  They're super easy to make weed edibles. They're quick, easy, and only require three ingredients to make.
A ripe banana helps disguise the bitter weed taste of cannabis coconut oil.  And seriously, they're so easy.
If you're new to edibles? READ THIS:  How long does a weed high last?
Don't know how to make Canna-Oil or Canna-Butter? Watch my Tutorials.
Learn to make cannabis coconut oil in the crockpot with my video tutorial:  How to Make Cannabis Oil in the Crockpot
Or check out my Magical Butter Machine demo (this device makes canna-oil and canna-butter magically!! and it only takes an hour!)
Tips for edibles.
Edibles are different than smoking.  Eating marijuana produces a more intense high than smoking or vaporizing and it lasts for much longer.
Start small!  I test my batches by starting with a teaspoon. If you DIY easy to make weed edibles at home, you're not going to know the strength. Sometimes I need 3 teaspoons for a dose, sometimes I only need a 1/2 teaspoon.
Be patient.  Wait at least one hour in between doses of canna-bananas to see how it affects you.
Don't overdo it. Being too high from an edible is NOT fun.  It can be a frightening experience.  It can ruin weed forever for you.
Use caution with heat.  I melt cannabis oil at 120 degrees in my Breville Smart Oven.  This avoids overheating the cannabinoids and destroying the medicinal properties.
Label you medicated treats!  You don't want Aunt Wendy accidentally snacking on your cannabananas.
Canna-Bananas Recipe – Cannabis-Infused Chocolate Covered Bananas
Ingredients:
One-half sliced banana
1/2 teaspoon cannabis oil or cannabutter (adjust based on your dose)
1 tablespoon dark chocolate chips
Directions for Chocolate Covered Canna-Bananas:
 1.  Combine cannabis oil (or cannabutter) and chocolate chips
in an oven safe bowl
.
2.  Heat at a low temperature until melted (Low-temps so that you don't destroy the cannabinoids in the oil. I use my Breville Smart Oven
at 120 degrees and I melt slowly stirring often.)
3.  Stir canna-chocolate until silky smooth.
4.  Add bananas, and coat well.
5.  Place canna-bananas on parchment paper and freeze.
6.  Enjoy your deliciously medicated treat.  If aren't enjoying your cannabananas right away, be sure to label them carefully!
Important:  If the bowl and spoon are covered in cannabis-infused chocolate, you should lick them.  Don't waste a drop!
If you love bananas, check out my canna-banana bread.