Can Cannabis Cure Cancer?
Petri-dish studies suggest, yes.  But there isn't enough evidence to consider it a frontline treatment for cancer (yet).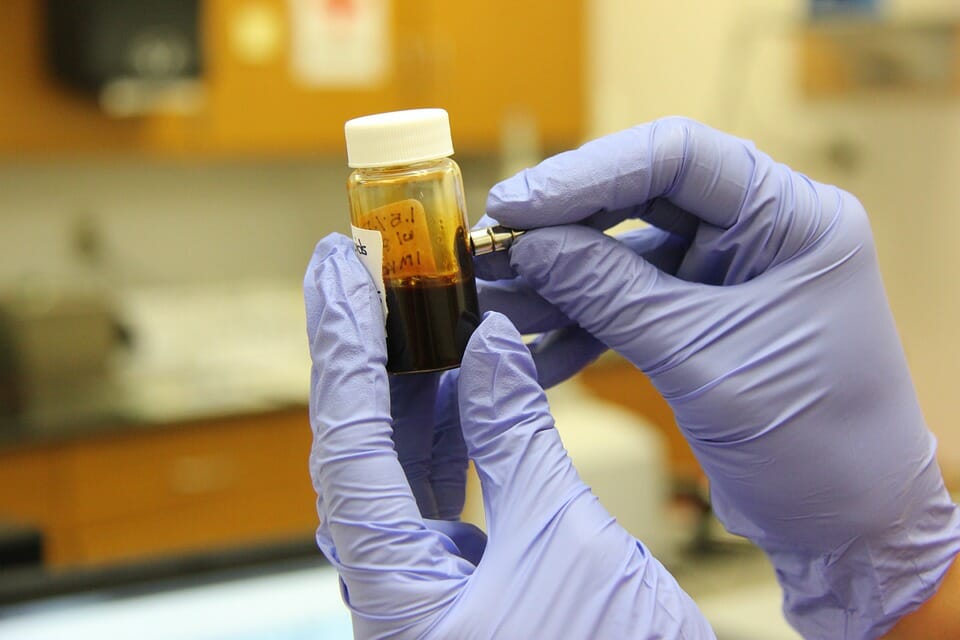 Can Cannabis Help Treat Cancer?
Many doctors and patients agree that cannabis can help treat cancer in conjunction with traditional cancer treatments.
We know marijuana can offer significant symptom relief from the devastating symptoms of cancer and cancer treatments.  Here are 10 ways cannabis helps.  Read the article I wrote for Basmati for more information.
READ on Basmati:  Cannabis & Cancer: A Natural Approach
Keep in mind, medical marijuana does have risks and dangers. Cannabis should be used under the guidance of a licensed and experienced healthcare provider.
10 Evidence-Based Ways Cannabis Enhances Cancer Treatment
1. Ease Nerve Pain
Marijuana can ease red-hot, sharp nerve pain. Tumors can cause nerves to go haywire and nerve pain is extremely difficult to treat. Opiates do not help nerve pain.  Cannabis does.
WATCH:  How to make ABV oil [VIDEO TUTORIAL]
2. Stop Bone Pain
Marijuana can soothe bone pain. Bone pain is more difficult to treat than nerve pain.  Bone pain causes intense suffering, but some patients find massive relieve from weed.  Relief from pain is a benefit of combining marijuana and cancer.
3. Eliminate Nausea
Marijuana decreases nausea, vomiting, and dysgeusia (a persistent bad taste in the mouth).  This is one of Mary Jane's most appealing effects when using marijuana for cancer.  Patients receiving chemotherapy often suffer from severe nausea and vomiting. Using cannabis for cancer can help patients spend less time vomiting and more time enjoying life.
Smoking or vaporizing weed can relieve nausea almost immediately. Here are 25+ marijuana pipes you can order online.
4.  Stimulate the Appetite
Marijuana can act as an appetite stimulant.  Keep in mind, not all strains of cannabis cause the munchies.  It's also worth noting, studies have found chronic cannabis users generally have a lower BMI than nonusers.
5.  Anti-Inflammatory Effects
Marijuana can decrease inflammation. Cannabidiol is a potent anti-inflammatory. CBD from hemp oil is often utilized for its anti-inflammatory properties in states where medical marijuana is illegal.
6. Chill Out
Marijuana can decrease anxiety.  Cancer causes physical, mental, and spiritual anxiety.  Cannabis can soothe the suffering and allow patients to focus on the present.  (Note: Use caution not to over-indulge.  Overconsumption can trigger panic attacks. )
7. Smile More
Marijuana can help lift depression and ease patients back into the activities they love.  For a little while, marijuana can help patients feel like themselves again.
Please store your cannabis responsibly.  Here are 20+ secure weed stash boxes.
8.  Sleep.
Marijuana can improve sleep stopping insomnia.  Cancer patients endure stress in their body, psyche, and soul.  This stress routinely interrupts sleep.  To finally sleep after suffering from insomnia is glorious.

9. Find Balance
Cannabis helps regulate metabolism which can stimulate weight gain in underweight patients.   Research also found chronic cannabis users generally have a lower BMI, leading to suspicions that cannabis may actually regulate our metabolic function.
10.  Tumor-Fighting Properties
Marijuana and cancer don't mix.  Cannabis has anti-tumor properties.  Laboratory research shows that in a petri-dish, cannabis demonstrates anti-tumor properties.  Still, there's not enough research to recommend marijuana as a front-line cancer treatment.  However, adding cannabis to traditional treatments can be life-changing.
READ on Basmati:  Cannabis & Cancer: A Natural Approach
Cannabis and cancer
weed and cancer
marijuana and cancer