This website is informational and cannot diagnose or treat illness or disease. Medical marijuana should be used under the direction of a licensed healthcare provider. This site contains advertisements. If you click a link and make a purchase, MarijuanaMommy.com may receive a commission.
What Is A Bubbler
A bubbler is a device used for smoking cannabis or marijuana concentrates.
A bubbler is like a mini bong. It's a handheld marijuana pipe, usually made from glass, that uses water to filter the smoke.
(If you don't like smoke, I highly recommend looking into the Firefly vaporizer. Some prefer to medicate with edibles. Learn more about the methods of cannabis administration.)
Bubblers can be simple or complex in design. They're significantly smaller than a bong.

How Bubblers Are Built
Bubblers are most often made from glass. They feature a bowl to holds the ground cannabis, the bowl usually has a carb hole on the side.  This hole is covered during suction.  A water chamber sits directly beneath the bowl and is connected to the mouthpiece by a draw tube.
You'll love the price on this tiny glass piece.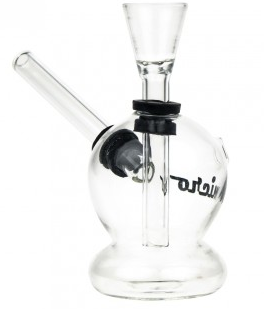 Bubblers Can Function as a Water Pipe or an Ordinary Bowl
Bubblers can function as a handheld pipe or bowl, but bubblers can also function as a water pipe because they have a large chamber that can be filled with water. Similar to a bong, bubblers allow you to use water to filter the smoke, allowing for a cleaner hit.
Bubblers contain different style percolators. Peculators determine the way the smoke is diffused as it travels from the bowl into the water.
3. Rainbow Bright Bubbler
Another pretty bubbler in my PrettyPipeShop.
How to use a bubbler
Fill the chamber with fresh clean water.
Fill the bowl with fresh cannabis.
Cover the carb hole with your finger, and light the herb while gently sucking in through the mouthpiece.
The water will bubble.
When the chamber is filled with smoke, remove your finger from the carb hole and inhale the freshly cleaned hit.
4. This Bubbler from my pipe shop is one of my favorites ever.
Full disclosure: The Pretty Pipe Shop is my pipe shop. We sell lots of fantastic pieces. The Little Duck Dabber is adorable but delicate!
Why use water for smoking cannabis?
Water can cool the heat from the smoke and filter out some of the carcinogenic particles.
If you want to avoid all carcinogens, switch to a vaporizer or try making your own cannabis edibles.
Benefits of Bubblers
Bubbler marijuana pipes are portable.
Bubbler pipes for weed are easier to clean than a bong.
Bubbler pipes for cannabis offer water filtration without the bulk of a bong.
Bubbler weed pipes are usually less expensive than a bong.
Tips for using a bubbler:
Weed bubblers hit more like a pipe than a bong.
Don't overfill with water, you want the water line to be just above the diffuser, or where the downstream connects to the water chamber.
Pull slowly or you might suck up some water.  Sherlock weed bubblers, with a long, down-angled draw tube, are sometimes easier to use than hammer style bubblers.
Cons of the bubbler:
They get dirty quick
They're easy to spill.
Mouthfuls of icky water is easy to accidentally suck in (so inhale slowly).
How much are bubblers?
Bubblers range in price depending on many factors. You can get a cheap marijuana bubbler on Amazon for less than $15 or you can spend hundreds of dollars for a unique glass weed bubbler.

One of the best weed bubblers for sale.
I love unique glass pieces like this cool weed bubbler.