Can you buy a bong on Amazon?
Sad news, my friend! Amazon has cracked down and stopped selling pipes and bongs.
But fear not! I got you covered. I started Pretty Pipe Shop to ship gorgeous glass pieces directly to your door.
For every awesome bong on this list that Amazon has eliminated, I've listed a similar gorgeous glass piece that you can buy in my Pretty Pipe Shop.
Amazon's History of Selling Bongs
If you asked me a year ago if Amazon sold bongs, My answer would have been, "Yes. You can buy anything on Amazon, except cannabis."
Until May 2018, Amazon was an excellent resource for bongs, weed pipes, and bubblers.
Amazon Has Cracked Down on Pipes & Bongs
Amazon still sells, weed grinders, stash boxes, and all sorts of great cannabis related gifts. (see our list of 50+ Best Stoner Gifts for under $20).  You can even still buy hookahs on Amazon. But, bongs on Amazon? – No more my friends.
Fortunately, Pretty Pipe Shop has gorgeous glass pieces and ships directly to your door.

Differences between Bongs and Hookahs
Do you know the differences between bongs and hookahs?  They're very similar.  Both bongs and hookahs are water pipes which mean you can use them to smoke legal dried herb and water filters the smoke.  Still, there are a few differences that cannabis smokers should know.
Smoking Cannabis With Bongs
When you hit a bong, you light the bowl of dry herb and suck in through the mouthpiece while covering the carb (if applicable). The smoke travels into an enclosed container filled with water. The water filters and cools the smoke and then the smoke moves into an air chamber.
You then release the carb (it may be a hole that you cover with your finger, or the entire bowl may remove from the piece). The filtered smoke can then be inhaled via the mouthpiece of the bong.
Bongs are typically used by one person at a time. Commonly, the air chamber of a bong is cleared of smoke after taking a hit.
Smoking Cannabis With Hookahs
Hookahs were designed to smoke tobacco via a burning coal, however, when hookah is used to smoke cannabis it is usually done via direct flame, not with a coal.
Hookahs also use water to filter and cool the smoke, however, the smoke is not cleared with every hit. The smoke is stored in the air chamber, where it waits for someone to take another hit.
Most hookahs feature hoses and many hookahs offer more than one hose allowing multiple simultaneous users. If you choose to use a hookah to smoke weed, pay special attention to those hoses because cannabis resin can clog them.
Hookahs are not cleared after every hit. They hold the smoke within the air chamber cycling it to other users or saving it for the next hit.
If you want to smoke weed from a hookah, check out the guide on RollItUp.
Replacements for the 20+ Best Bongs on Amazon
Amazon used to sell water pipes, silicone bongs, classic bongs, and a variety of glass pieces, but they have stopped allowing pipe and bong sales.
Here is a list of replacements for the 20+ best bongs on Amazon. Pick up these glass pieces in my Pretty Pipe Shop.
1. Bongs Amazon Sells: RORA (err….used to sell)
These RORA bongs used to be popular on Amazon, but they're no longer listed. Instead, check out The Stately in my Pretty Pipe Shop.
2. Green Glass Bong
You used to be able to buy this green bong on Amazon – No more. Instead check out our double-percolator bong, The Envy.
These two bongs are very similar, both are in teal and clear glass.
The pink bongs sold in Pretty Pipe Shop are FAR prettier than any Amazon ever sold. This triple recycler,
Fairyland
, is one of my favorites.
5. Clear Glass Bong
Amazon used to sell lots of clear glass bongs. Now they don't sell any. Instead, check out this translucent mini bong on Pretty Pipe Shop.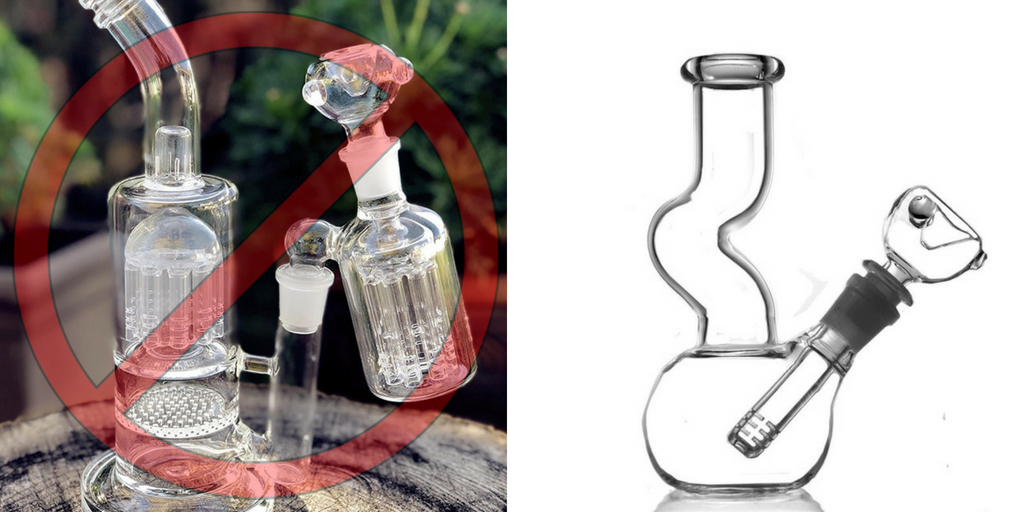 6.  
Blue
Bong
 o
n Amazon
Amazon used to sell this complex blue bong. Skip the complexity and reach for this handmade heady glass bong instead.
When searching for a bong on Amazon last year, you would have seen a tall purple glass bong. Its no longer available, but at Pretty Pipe Shop, we have several purple bongs available, like
Revelry, the statuesque purple bong. 

9.  Classic Beaker Bong
A classic beaker bong makes an excellent stoner gift.  (If you're gift shopping, find 50+ great stoner gifts here. In Pretty Pipe Shop you can find a classic beaker bong in a variety of colors.  

10.  
Unbreakable Silicone Water Bong 
The best thing about a silicone bong is that it can't shatter. Pretty Pipe Shop sells a Silicone Gas Mask Bong that is a ridiculously fun piece.
21. Scarlet Sapling
 Bong
You'll find this exact same glass piece on Pretty Pipe Shop.
Read Next: